Okay, so I have a confession. I don't really like pizza (*pause* for shocked gasps). Actually let me correct that, I didn't really like pizza. What has changed I hear you ask? Well, this week I had the privilege to sample an exclusive menu at Zzetta, a new pizza restaurant that has recently opened at Rathbone Market. I can honestly say that Zzetta is a pizzeria like no other; everything from the menu itself to the décor of the restaurant is so well thought out and authentic. Take the name of the restaurant for example; it is derived from the word 'pizzetta' which Rob Dewan (owner and founder of Zzetta) informed me roughly translates to a small pizza, the idea being that people would order three little pizzettas in a restaurant to sample different flavours instead of one. However, Rob decided London was not ready for these smaller portions just yet and by God am I grateful! Instead, Zzetta serves 12 inch pizzas that are baked in a fired up Italian stone oven (which like the human thermoregulatory centre, regulates its own temperature all by itself!). Another feature worth mentioning that distinguishes Zzetta from other pizza chains is the fact it only uses 48 hour slow-risen vegan sourdough as a base for toppings. This means the pizzas are thin and crispy and that they leave you feeling comfortable full instead of lethargic. It also means that you can eat more without feeling like you will need to be rolled all the way home! Take my brother and I for example, we devoured a whole garlic bread together, samples of a new fiery King Prawn pizza set to jazz up the menu next month, as well as a whole pizza each. Did I regret any of it? Not one bit!
One thing that was clear was the restaurant's focus on community and embracing the surrounding area of its location. The restaurant channels the history of Rathbone Market which has been a staple of the community through the years. Rob worked very closely with experienced chefs such as Richard Regalado to develop food made from locally sourced products of the highest quality. In this way, Zzetta pays homage to the small, grass-root businesses that operate in and near London as well as adding depth and originality to every single dish. The different cheeses used come from Romford and only have a shelf life of 3 days compared to cheeses imported from other countries, such as Italy, which have a shelf life of months! The shorter shelf life ensures that the cheese is fresher, more flavour is preserved and it has to be used up so as to avoid waste- so if your pizza is extra cheesy then you know why! The yeast itself is produced in the restaurant which is a testament to how fresh everything is. Zzetta's interest in Rathbone Market is also reflected in its interior design, the tables are shaped to mimic market crates, the walls are painted to resemble market tents. The feature I found most striking was that hanging from the ceiling are wooden speech bubbles with quotes, stories, feelings and memories that members of the local community have of Rathbone Market. You really get the sense that Zzetta is all about community and as soon as you enter the doors, you feel welcomed.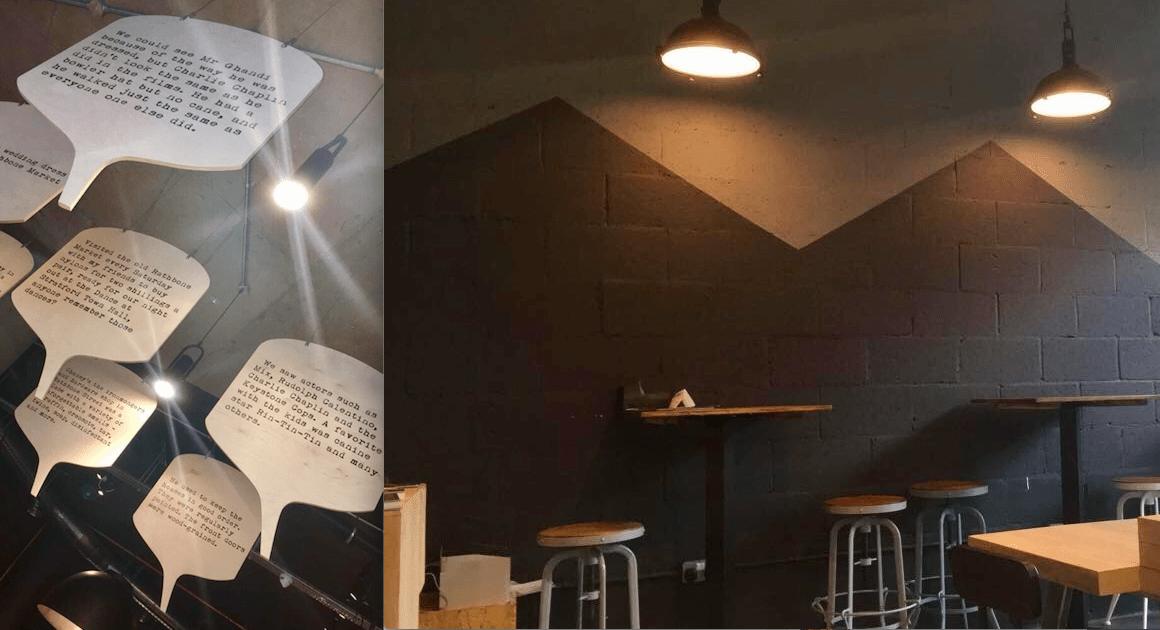 Zzetta's menu is short to allow for both quality and speed of service and the former is definitely prioritised; if pizzas can be described as classy then Zzetta's pizzas are certainly that: they are packed full of flavour and delightfully grease free! As a pescatarian, I was thoroughly impressed with the range of options available for me, for vegetarians and for meat-eaters. I opted for the Salmon pizza which consisted of Mozzarella, Broccoli, Ricotta Cheese and Smoked Salmon; I practically inhaled the pizza it was that good. The salmon and broccoli complimented each other perfectly and there was enough of every topping without it being too overpowering. My brother opted for the Rathbone Pepperoni which consisted of Pepperoni, Tomato Sauce, Grilled Aubergine, Basil and Parmesan Cheese Shavings. Although I didn't try this one personally, my brother had finished his pizza when I was only halfway through mine so I think it is fair to say that it was also delicious! To check out their full menu, visit: https://zzetta.co.uk/menu/
I will definitely be recommending Zzetta to EVERYONE I know and I encourage you to do the same! Zzetta is also ideally located right near Queen Mary University so it would be rude not to support our neighbouring establishments! Who can turn down artisan Neapolitan-Roman fusion style pizzas?
Nearest Station: Canning Town, West Ham, North Greenwich, Canary Wharf
By Nicole Brownfield
Source: http://cubmagazine.co.uk/2018/06/zzetta-revolutionising-pizza/